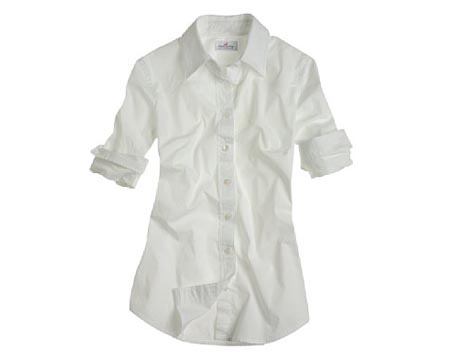 (Crisp White Shirt, J Crew $54
http://www.jcrew.com/
)
"A girl should be two things, classy and fabulous"-Coco Chanel

1. Dark-Colored Suit-so you can mix and match (also cost-effective)

2. Pencil Skirt

3. Crisp, White Shirt-not one that "used to be" white, yuck. Totally unfabulous and distasteful

(LBD, Bebe $139)
4. Great Pair of Denim (for those who have the liberty to wear denim to work)

5. LBD-"Little Black Dress". This will take you to work, paired with a cardigan, or to an after-work cocktail party (as long as the length is appropriate for work).

6. A great pair of pumps (something reliable yet comfy, so you may have to spend a bit more for durability. (T.J. Maxx, Marshall's, DSW, Nine West, Filene's Basement, Macy's).

7. Basic T-Shirts allow for layering and are versatile-can be dressed up or down.

8. Trench Coat. No longer serves as a military necessity, these coats are simple, yet sophisticated.

Suggested Readings: Harper's Bazaar Great Style: Best Ways to Update Your Look